How organisations are responding to technology disruption
CCMA Open Forum - In this month's breakfast briefing, Derek Lande from Accenture tackles the issue of competitive agility and how organisations are responding to technology disruption.
In an environment where the pace and disruptive impact of new technologies is increasing, organisations are increasingly trying to predict what will impact their business and plan how to respond. This event will explore some of the long term technology trends and examine why the pace of disruption is accelerating.
In the face of accelerating and increasingly harder to predict disruption, many organisations are focusing on enhancing their competitive agility as the one certain requirement for future success. We'll discuss how achieving agility touches on everything from culture to organisation to process and technology.
This informative breakfast briefing, held at Accenture's offices in Dublin will begin at 08:00 and finish at 09:30
Date: 25/09/2019
Venue: Accenture The Dock, 7 Hanover Quay, Grand Canal Dock, Dublin
Speakers on the day will include:
Derek Lande: Head of Technology Strategy, Accenture
Maeve Farrell: Head of Talent Strategy, Accenture
Annette Hickey: VP EMEA Customer Solutions, PayPal
If you are a CCMA member and would like to attend this event please complete our online registration
If you are not a CCMA member, contact dorothy@ccma.ie
About Derek Lande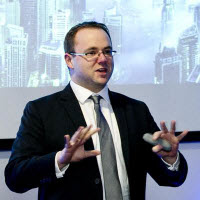 Derek leads Accenture's Technology Strategy business in Ireland where he helps business leaders across multiple industries to define their digital strategies and technology roadmaps.
His specialities include:
Helping leaders to understand how emerging digital technology, market and workforce trends will impact their business and how they can become more agile to respond
Helping technology functions to embrace new 'multi-speed' ways of working, so that they can deliver faster, become more profitable and face down new security threats
A technology and politics nut, Derek's work and personal interests collide around how emerging technology will impact not just business, but society as a whole. He believes that trust, genetics and AI will be at the heart of the next generation of political debate. He presents regularly at conferences on this topic, the trends that drive it and how we need to think differently. He is also a long suffering fan of Liverpool FC and Munster RFC!