TELUS International's CSR Strategy - Community, Education and Sustainability

Ruth Furney is Corporate Communications and CSR Specialist at TELUS International Ireland. TELUS International offer IT services and customer service to global corporations. They run a very successful CSR programme called TELUS Days of Giving, whereby their staff volunteer in their local commuities, building a strong company culture based on care.
At TELUS International, our team members want to be part of something bigger. We recognise the positive impact that CSR has on not only our communities, but also on the engagement and wellbeing of our employees too. For this reason, CSR is a key component of our employee experience framework.
TELUS Days of Giving
Our CSR strategy is built upon three key pillars; Community, Education and Sustainability. The focus on social impact is embedded within the TELUS International culture, where the strength of the relationship between the success of the company and the well-being of the communities where we live and work, is fundamental. This focus will continue throughout this year where we plan to deepen our roots in the community, and increase our positive social impact.
In June 2022, over 260 team members took part in the TELUS Days of Giving #GOALLOUT virtual challenge by walking, running or cycling 200km, the equivalent of the Ring of Kerry. This two-week-long event raised a total donation of €44,000, which was divided evenly between our non-profit partners.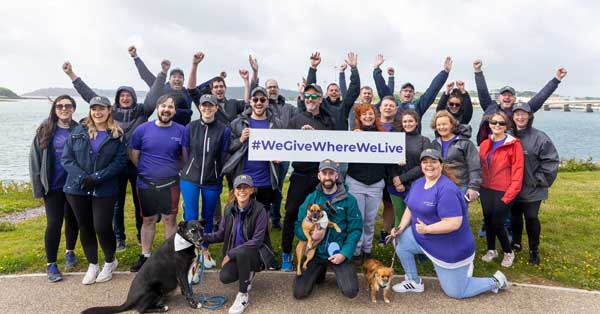 Cope Foundation
Volunteering and making a physical difference for our charity partners has always been the cornerstone of our approach to giving back, and this was something we greatly missed during pandemic times.
Last July marked the happy return of in-person CSR events. Team members worked on the Cope Foundation allotment-style garden in Ballincollig to revamp the space - digging and weeding raised beds, planting bee and pollinator-friendly plants and painting fences. During 2022, our team members gave over 3,823 hours to charitable causes making a positive impact in the community.
My Lovely Horse Rescue Farm
Our second TELUS Days of Giving event saw 80 of our team members travel to Kildare to work on the My Lovely Horse Rescue farm, where the feedroom was revamped and a new dog play area developed. The benefits of such volunteering days just can't be overstated. Not alone is the charity partner helped but the increased pride, commitment and loyalty to the company of team members is greatly enhanced.