Using Generative AI to Improve Customer Support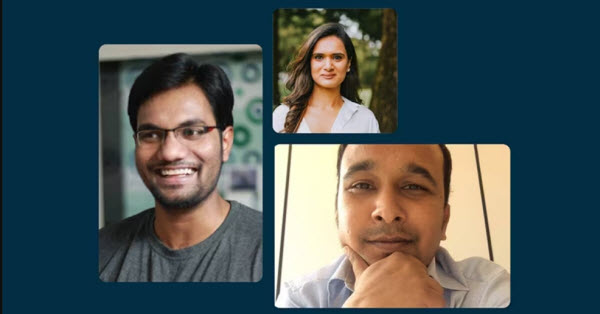 We've all been there: at that frustrating moment when you have a problem or an urgent need and the customer support line is busy. Endless searching for answers turns up nothing that matches your predicament.
That's the friction ServiceNow teams are diving into headfirst to provide each of our customers satisfactory answers with promptness that matches the urgency they feel. Generative AI is helping the teams improve customer support at a rapid pace.
Elevating the support experience
Our new Get Support page is designed to provide quick and easy solutions to customers' support queries, allowing them to get the help they need without waiting for assistance from support agents.
Users can access various support resources on the page, including frequently used resources organized by topic, the latest video tutorials, and personalized recommendations. Search on the portal uses generative AI to provide instant answers.
"Generative AI crafts a concise response to a user's query that is prominently displayed at the top of our existing search results," explains Esha K., staff technical product manager at ServiceNow. "Customers no longer need to dig through pages of links. Instead, they get their answer immediately."
Esha listens to customer feedback to help teams continuously improve the support features for those using the Now Platform. "Seventy-seven percent of feedback has been positive,'" she says. "They like it, and we're improving the functionality daily."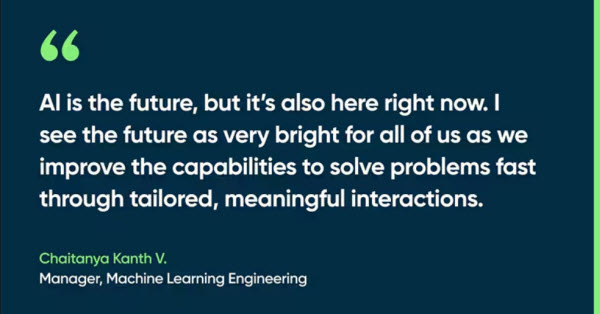 Removing Barriers
Avin S., principal enterprise architect at ServiceNow, grew up in a small city in the northern part of India, but his more than 15 years in search engineering have given him opportunities around the world.
"Logic is my thing," he says, blushing at the suggestion that he's the king of search. "It's a lot of fun how we work to reverse-engineer the thought process between two people—one who's asking the question and another who's trying to solve it—and how to bridge the barriers between them."
The more those barriers are reduced to match the language choice and understand the needs of the customer, the more the user experience with generative AI-backed tools will feel natural, easy, and quick.
Toward that effort, our teams strive to always put customers first and work hard to understand their pain points. "We gather a lot of signals from the customer, such as information about their company, their role, and their past inquiries and interactions with us," says Chaitanya Kanth V., manager of machine learning engineering at ServiceNow.
"Using this data, the system can better tailor answers and information to them. It only gets smarter and more helpful, which results in more support cases being deflected."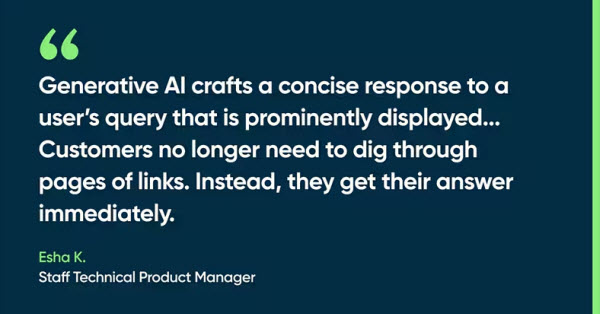 Building on an AI foundation
ServiceNow has been focused on AI for quite some time. We use our own intelligent platform across our operations every day, so generative AI is not a new concept for us. It's an evolution of what we've been intentionally building for years. ServiceNow customers can put AI to work in every facet of their business to increase responsiveness and efficiency.
"AI is the future, but it's also here right now," says Chaitanya. "My child is already interacting with AI every day, getting recommendations for the cartoons he likes. He's growing up with it really. I see the future as very bright for all of us as we improve the capabilities to solve problems fast through tailored, meaningful interactions."
According to our digital experience team, we're just scratching the surface of what's possible.
Join a company on the cutting edge of technology. Explore ServiceNow careers.
© 2023 ServiceNow, Inc. All rights reserved. ServiceNow, the ServiceNow logo, Now, and other ServiceNow marks are trademarks and/or registered trademarks of ServiceNow, Inc. in the United States and/or other countries. Other company names, product names, and logos may be trademarks of the respective companies with which they are associated.