CCMA's Success with New Online Community Chat Initiative
#CCMACommunityChat Update
We continue to support our members and the wider business community through our CCMA Community Chat initiative, and have added more webinars to our growing collection. These include some new and exciting top presenters from companies like Paypal and Voxpro, covering topics such as working remotely, maintaining a positive outlook to imagining our 'new normal', all of which are all explored with in-depth knowledge and expertise.

Our goal is to engage experts to help keep you informed on the latest trends, advice and success stories as they apply to our industry. Our webinars can be easily shared with colleagues for team learning and downloaded too for later viewing (please scroll down to learn more).
Our key objective here at CCMA Ireland is to facilitate collaborative shared learning for our members through networking events, operational working groups and to promote the CX industry in Ireland.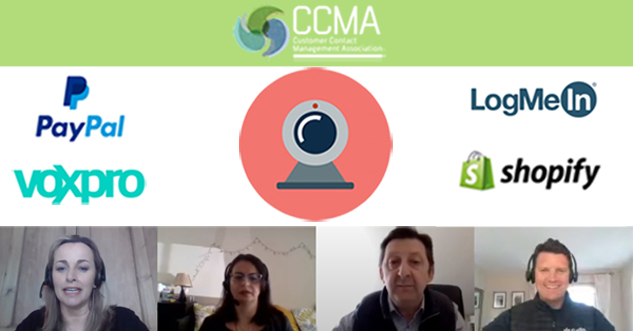 Why we launched the CCMA Community Chat Initiative
With the sudden and significant impact of the global Covid19 crisis on businesses, we knew that we needed to act quickly to support our member base and help them with real challenges like transitioning their contact centre staff to a remote working environment.
In the words of John Riordan from Shopify:
"Many of us went to bed on 29 February 2020 and woke up on 01 March 2030! Thats certainly what it felt like when we think about how quickly we had to adapt to a remote working model for our organisations" - John Riordan, Director of Support, Shopify
During this challenging time we want to support all our members as best we can, we know many of you are working remotely and endeavouring to continue to provide an excellent customer experience to your customer base.
We decided to launch a new online initiative under the banner CCMA Community Chat where we are hosting a series of webinars. Our primary focus is to support our members but we have opened up these webinars to help other organisations that may be struggling at this time and encourage our members to spread the word about this programme.
The webinars are being hosted by leading industry experts who have shared their experience and advice on key topics relating to the new ways of working many member companies have had to put in place to continue to deliver an excellent customer experience during the current Covid 19 crisis.
We would like to do a big shout out to our fantastic speakers who offered to help at very short notice and share their expertise with our audience. Thank you.
We are also delighted to get such great feedback from our members - Thank you all for participating in our webinars, and engaging with great questions and offering feedback on your own experiences that benefits all our members.
We've had great success with our webinars thus far, with some top speakers coming on and contributing their findings and experiences as they navigate through this new transition.
Our Webinar Recordings
The webinars are for 30 minutes on average and we would encourage you to share with your teams and colleagues. We know that many companies are using the webinars as part of their daily team huddles and for training and development purposes.
Recordings of and presentations from these webinars are now available in the events section of our website for members and friends to access (Scroll down to see past events).
For convenience we have provided links to each of the webinars in the table below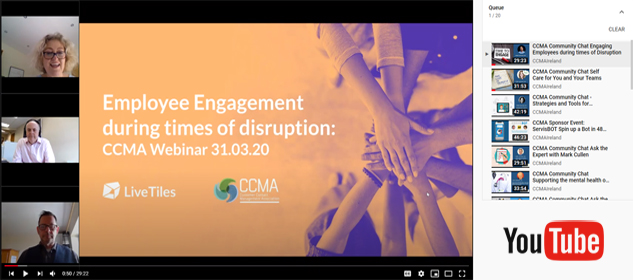 CCMA Community Chat Series
The series will continue with two CCMA Community Chats each week including an Ask the Expert Panel each Friday. If there is a specific topic you would like us to discuss in future webinars please send through your suggestions info@ccma.ie. Keep an eye on the CCMA Events Page where we are announcing new sessions.
Separately a number of CCMA sponsors have also hosted webinars sharing information on technologies and applications available that can offer alternative options to voice calls to help companies in supporting customer contacts during this challenging period through messaging, chat bots and other channels. Recordings and presentations from these webinars are also available to download.
We are promoting these live events on our Social channels under the hashtag #CCMACommunityChat and would encourage you to share these with your own organisations and other businesses that you think might benefit from this content.
Finally We wanted to take the opportunity to promote our Working From Home contest - Enter now to be in with a chance to win the latest POLY headset and submit a team entry to win a free lunch for you and your team.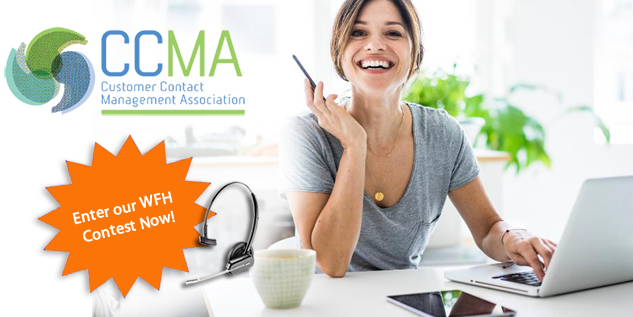 | | |
| --- | --- |
| Webinar | Presenter |
| Mindfulness Moments | Maurice Whelan |
| Strategies & Tools for supporting Remote Teams | Alison Creed |
| Self Care for you & your Teams | Maura Jakksen Byrne |
| Engaging Employees during times of Disruption | Paul Conneally |
| Ask the Expert - John Riordan | John Riordan |
| Leading your Virtual Team The New Normal | Alison Creed |
| Effectively Managing Remote Service Teams | Cormac Murphy |
| Ask the Expert - Mark Cullen | Mark Cullen |
| Supporting the Mental Health of your Team During Covid 19 and Planning for a Phased Return to the Workplace | Dr Shane Farrelly |
| Ask the Experts - Roger Clancy & Daniela Illuminati (Voxpro) | Roger Clancy & Daniela Illuminati |
| Looking After You During Covid 19 | Dr. Ui May Tan |
| Rethinking the Office - Physical & Virtual | Alison Creed |
| Ask the Expert - Joseph Walsh | Joseph Walsh |
| Building your Resilience in the Face of Adversity | Neil Kelders |
| The Importance of Nutritional Wellbeing | Dr. Ui May Tan |
| Supporting a Coaching Culture in a WFH Environment | Cormac Murphy |
| Ask the Expert - Michael Nolan | Michael Nolan |
| Covid 19 - Take the Time to Pause! | Orla Stafford |
| Ask the Expert - Ashling Williamson | Ashling Williamson |
| Ask the Expert - Kim Robertson | Kim Robertson |
| Looking After You - The Importance of Emotional Wellbeing | Dr. Ui May Tan |
| Lean Approaches To Increasing the Value of your CX Operation | Michelle Nolan |
| The Autonomous Customer 2020: Consumer Trends Shaping The Future Of The Contact Centre. | Dr. Nicola Millard |
| Ask the Expert | Chris Paul |
| Authentic Leadership to create true Followership | Fiona Buckley |
| New CX Strategies for Overcoming Uncertain Times | Amanda Halpin & Kim Robertson |
| CCMA Ask the Expert Virgin Media Ireland | Eric Mullane |
| CCMA Sponsor Webinar The 'D's shaping the future of work: how global Disruption, Dolly, Dilbert and Droids are all reshaping the Digital Workplace | Dr. Nicola Millard |
| CCMA Ask the Expert - Catch It. Call It. Change It. | Mark Fenton |
| CCMA Community Chat What motivates you?, What motivates your team? | Fiona Buckley |
| CCMA Ask the Expert Enhancing WFH Coaching Practices | Cormac Murphy Ennovate Consulting |
| CCMA Sponsor Webinar What Will Your Contact Centre Be Like Post Lockdown | Welltel |
| CCMA Ask the Expert Intelligent Swarming the next step in CX Delivery | Sun Life Service Desk |
| CCMA Ask the Expert Leading your Virtual Team - Staff Engagement | Alison Creed The Coaching Creed |
| CCMA Sponsor Webinar How to build responsive customer service in times of crisis and change | LogMeIn |
| CCMA Ask The Expert Leading your Virtual Team - Lessons in Leadership during COVID-19 | Alison Creed |
| CCMA Sponsor Webinar: Stay Safe, Stay Well, Stay Connected, and Keep Learning | Microsoft |
| CCMA Ask The Expert: The Future of Work | Brian Farrelly |
| CCMA Sponsor Webinar: SThe Benefits of a Flexible Contact Centre | Noble Systems |
| CCMA Sponsor Webinar: Stay Safe, Stay Well, Stay Connected, and Keep Learning | Microsoft |
| CCMA Ask the Expert: The Future of Work | Brian Farrelly |
| CCMA Sponsor Webinar: Engaging Employees in the 'New Normal' | PWC |
| CCMA Sponsor Webinar: Putting Your Customer First, Can AI Help? An Expert discussion. | KantanMT |
| CCMA Sponsor Webinar: What are the best Channels for Customer Service during the Covid-19 Pandemic? | Poly |
| CCMA Ask the Expert: Talking About Mental Health in the Workplace | Jennifer McCartney PayPal |
| CCMA Ask the Expert: Leading your Virtual Team - Fostering Fun! | Alison Creed |